Stop the Global Veggie Crisis with epic time management game Farm Craft 2!
Ready to do some chores? Back to nature we go! This is a very nice farming game, it is very popular on Facebook and still quite favored on the casual downloads market as well. In FarmCraft 2 you will once again meet our heroine Ginger who restores various farms and also has to keep an eye out for sabotaging sleazy villains. It is certainly not a casual day on the farm! The story of Farm Craft continues with Ginger, who is now CEO of the Tomato Corporation.
She returns to her grandparents and decides to help Robert with his farm. Her trusty shovel hangs on the wall as a memento to her great work in past. But this is only the beginning of an exciting farming adventure. You will lead Ginger to a lot of different farms which require her excellent skills. FarmCraft 2 has 24 levels, but passing those levels can take up to an hour or more to be finished.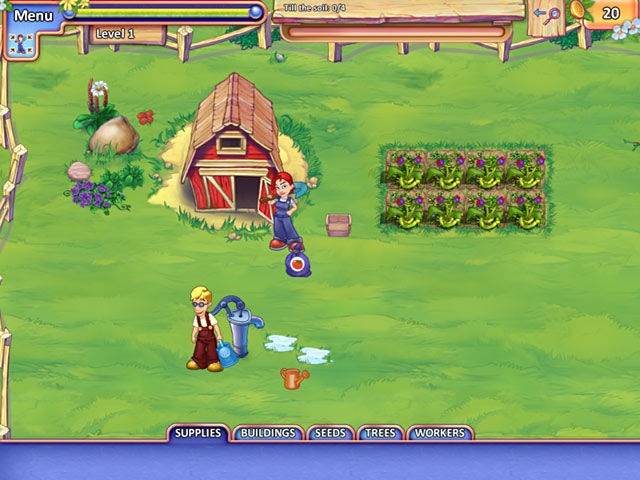 Your tasks involve plowing land, watering, feeding animals, planting and harvesting crops, and improving farms. You can construct many buildings and plant various plants from level to level to earn experience. After harvesting crops you can sell them by delivering them to the barn. There are even more crops in this game: flowers and fruit such as tomatoes, pineapples, cucumber, corn, sunflowers or roses. Also you can install animal shelters on your farms, for example a beehive, pig pen etc.
Apart from the usual farming levels there are some interesting action levels, where you need to sneak around farms of competitors. Those levels are way shorter than the normal ones, and you mostly have to perform tasks such as activating electric generators, meeting agents, avoiding to be caught by guards, or stealing special crops.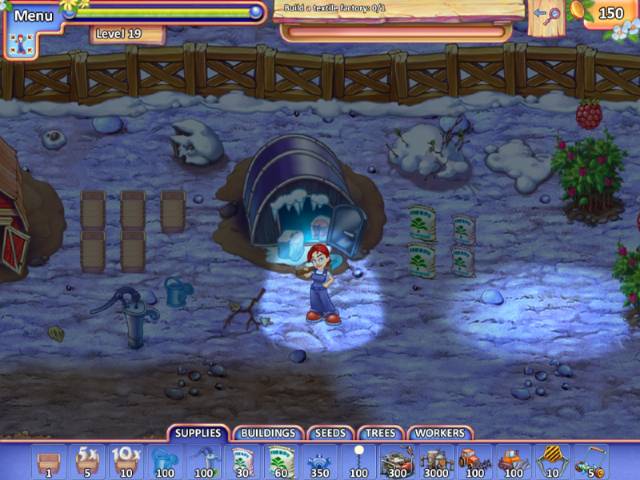 Join this wonderful farm game and help Ginger to do her work! This is a good game in terms of gameplay. It's fun and challenging.
The ability to hire different workers is the most interesting thing in FarmCraft 2. You have to pay them on a regular basis if you want that they continue their work. There are pickers for fruits and vegetable, a manager who will pay other workers automatically, a livestock breeder, a garden assistant and a crop waterer.